Next Presentation
JOIN US ON TUESDAY, APRIL 23, 2019 FOR A PRESENTATION BY MICHAEL L. ODDENINO ON "The Origins of Slavery in America."
The U.S. Civil War was the culmination of long-simmering disputes over slavery in the United States.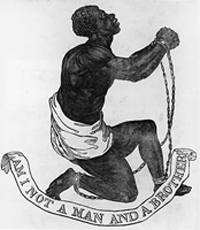 How did slavery become so entrenched in America that it took a civil war to finally eliminate it in our country?
Come learn the history of slavery in America and how this insidious practice grew into an American cancer.
1619 was significant as marking the first time African slaves arrived at the first permanent English settlement in the New World – Jamestown, Virginia.
Spain became the richest country in the 16th and 17th centuries as they reaped the riches of conquests in Mexico and Peru. Other European countries aspired to emulate the wealth gathering that made Spain the envy of the world at that time.
The Virginia Company of London, in financing the new settlement in Virginia, specifically advised the settlers to establish themselves sufficiently upstream to better guard against Spanish attack.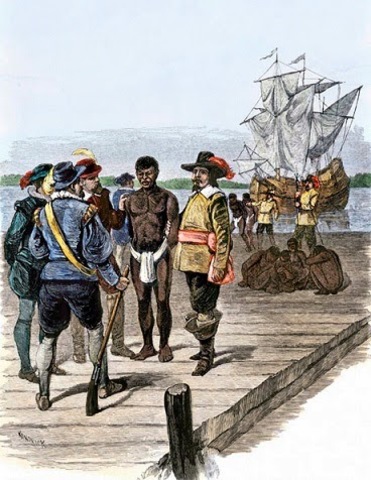 The Jamestown settlement suffered from Indian attacks, food scarcity, and rampant illness. It also suffered from a shortage of human beings to do the necessary work of building a community in a new world.
The first Africans arrived in Jamestown in 1619. African slaves were in other parts of the world at that time. The Arabs had been taking Africans as slaves since the seventh century all the up to the 19th century. Blacks had been enslaving other Blacks in Africa for some time by 1619. Slavery was a common practice in 1619.
So how did slavery develop and thrive in America?
This presentation will provide the historical backdrop to the practice that triggered the U.S. Civil War.
How did slavery coexist with the more lofty aspirations underlying American democracy?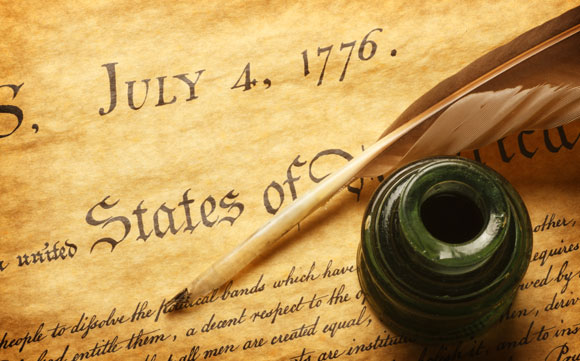 Join us on April 23, 2019, for this fascinating discussion.
Don't miss this opportunity to learn about a crucial campaign and the facts behind that campaign.
-----------------
_______________________________
Michael L. Oddenino will give this presentation providing new perspectives on slavery in America which led to the U.S. Civil War. Michael is the Program Chair for the Pasadena CWRT and a regular speaker on Civil War topics. He is a practicing lawyer in Los Angeles County with an abiding passion for history. Below are some reviews on his Gettysburg Address presentation:

Even for an audience that has read Lincoln's Gettysburg Address a dozen times, Michael Oddenino's thoughtful deconstruction of Lincoln's remarks provide illuminating context that helps a modern audience see and understand the speech anew. – Dr. Craig Symonds, Professor Emeritus, U.S. Naval Academy and winner of the Lincoln Prize

Using his skills as a great orator and historian, Michael Oddenino brings the Gettysburg Address to life with insight, humor, and even a personal connection. Whether you are well-versed in Civil War history or new to the field, Michael's captivating presentation will reinvigorate your enthusiasm for this important moment in American history. – Maria Carrillo, Associate Archivist, Lincoln Memorial Shrine, Redlands, California

Michael Oddenino introduces you to the people, places and politics that led up to the Gettysburg Address. I was amazed at how much I didn't know about this famous American historical event. Photographs, facts, anecdotes and unique music combine to provide a moving, emotional review of President Abraham Lincoln's two minute speech at the dedication of the Gettysburg National Cemetery. It's a highly entertaining and historical look at an iconic piece of American history we all think we know well. Don't miss a chance to hear this one! – Susan Ogle, Director, Drum Barracks Civil War Museum

Michael L. Oddenino's Gettysburg address is a captivating presentation full of stunning revelations, photos and music. It is a fascinating historical experience I'd recommend to all followers of Americana. Michael presented his multimedia show at the Los Angeles Adventurers' Club and was showered with enthusiastic questions afterward. A must-see experience. – Chuck Jonkey, Los Angeles Adventurers' Club

When you think you have heard all that has to be said on a high profile topic, you await to be amazed or very disappointed. No one listening to Michael Oddenino's story of the unfolding of the events which led up to the memorable Gettysburg Address and to the address itself will consider themselves disappointed. It was historically accurate and set into motion by his captivating style. You could feel the buildup to Everett's speech, and understand the quiet that settled over the crowd after Lincoln performed his 2 minute statement. All of us listening to Michael repeat those now immortal words shared in that moment what our forefathers felt 150 years ago. And we could understand. - Dr. Brian Clague, West Coast Civil War Conference organizer

Those fortunate enough to experience Michael L. Oddenino's Gettysburg Address presentation will gain an entirely new perspective of this snapshot of history. Michael sets the stage with colorful anecdotes which convey the country's mood in November 1863. He brings the listener to the moment with descriptions of sights, smells and the compelling music, some of which has not been recreated in the 150 years since the actual event. Michael leaves his audience wanting more. This is a compelling presentation. – Gary Burnett, Las Vegas

If you thought you knew everything there was to know about Lincoln 's famous Gettysburg Address, you will come away from Michael Oddenino's presentation with a fresh appreciation and newfound knowledge about this iconic piece of American history. Michael Oddenino combines history, context and little-known facts to bring Lincoln's prose and the event surrounding its historic debut to life. His presentation to the Pasadena Civil War Round Table packed the house, and left our members wanting more. It's a "don't miss" event. – Janet Whaley, Pasadena CWRT, Treasurer

Let's just say that if you have Michael Oddenino make a presentation to your group, you will be in for a wonderful presentation filled with information that many of you may never have heard before. While you're at it, ask Michael about his Balls Bluff program. It, too, is excellent. - Michael Green, President, San Joaquin Valley Civil War Round Table
PLEASE JOIN US FOR OUR NEXT PRESENTATION ON
TUESDAY, APRIL 23, 2019 AT 7:15 P.M.
---
WHERE: The Pasadena Central Library - Donald R. Wright Auditorium
PLACE: Pasadena Central Library
285 E Walnut Street - Pasadena, CA 91101
For a MAP to location: CLICK HERE
---
DATE: Fourth Tuesday of Every Month.
TIME: 7:15 p.m.
PLACE: Pasadena Central Library
285 E Walnut Street - Pasadena, CA 91101

For a MAP to location: CLICK HERE
PLEASE LIKE US ON FACEBOOK:

FOR MORE INFORMATION OR TO BE ADDED TO OUR MONTHLY EMAIL SERVICE:
Contact Michael L. Oddenino, Program Chair
cwrt@pasadenacwrt.org or 626-447-5454